How You Can Help
As a charitable organization, DDS relies on the kindness and support of its community stakeholders. We are able to fulfill our mission because of the many people who share our concerns for people with disabilities living in our communities.
Volunteer
DDS can always benefit from the help of volunteers. Volunteers are needed to help maintain the building and grounds, in addition to assisting with the running of programs. If you are interested in volunteering please contact us at 717-274-3493, or email vpdevelopment@ddslebanon.org.
DDS does implement a volunteer application process. Interested parties should call 717-274-3493 for an application prior to scheduling an appointment with a DDS representative.
One great seasonal volunteer opportunity is the Buddy Program. A Buddy is a volunteer who assist campers during the Summer Stars Day Camp. Basically, Buddies attend camp along with campers to engage them in camp activities, provide oversight and assistance as needed.
Buddies should be:
Sixteen or older (Will consider mature teens)
Complete a criminal background check
Flexible in working with children
Attentive to the needs of the campers
Supportive and willing to help campers with activities
Volunteers are also used to assist with the Brave Art Studio.
Donate
DDS is able to provide its services at no cost to individuals and their families because of the generous support it receives from its donors and community stakeholders. While DDS does receive government funding to provide these important services, these funds are inadequate to cover the expenses to provide these services. By supporting Developmental & Disability Services of Lebanon Valley you are empowering us to empower others through training and education services.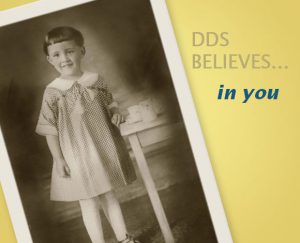 Long Term Giving
When Ruth Masimer was 4 years old, little did she realize that she would still be helping children beyond her life time. By naming Developmental & Disability Services of Lebanon Valley as a beneficiary in her will, she has taken an active role in shaping the lives of children with special needs for many years to come. In her life time, Ruth was an avid supporter of DDS programs and services. After careful consideration, Ruth decided to take things a step further by naming the DDS of Lebanon Valley as a beneficiary. You too, can leave a legacy by naming DDS of Lebanon Valley as a beneficiary. Call Kristin at 274-3493 to learn how you too can make a difference.